Philadelphia Forklift Accident Lawyer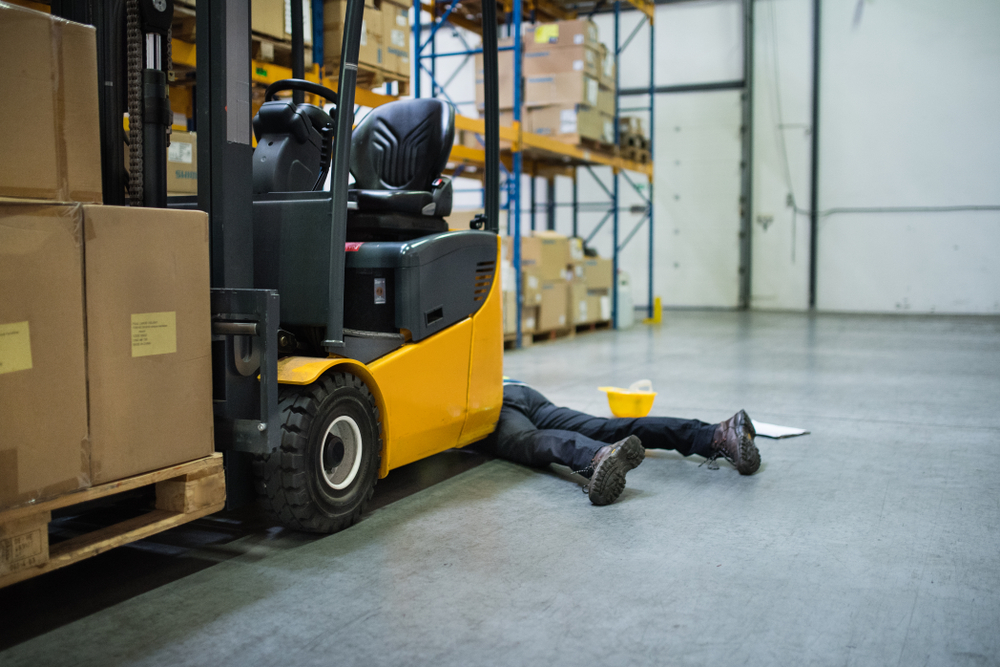 Experienced Workplace Accident And Injury Attorneys Are Here To Assist You With Forklift Accidents In Pennsylvania And Throughout New Jersey
Forklifts are found in common use on factory floors, construction sites, and in warehouses and large retail stores. While they significantly improve worker productivity and play an important role in the transportation, loading, and unloading of goods and materials, they can pose serious health hazards if they are not properly maintained or operated. If you or a loved one was injured in any way in an accident involving a forklift, contact the Philadelphia forklift accident lawyer with Villari, Giannone and Matteo today. You may have grounds for a worker compensation or workplace injury claim, and this financial compensation can help you pay for your medical bills and compensate you for lost income. Contact us today for a free case evaluation and to learn more about how we can help you.
Villari, Giannone and Matteo's Philadelphia Forklift Accident Lawyer Will Help Protect Your Best Interests After an Accident
You deserve to be compensated for losses and injuries associated with a workplace forklift accident. After an accident, you may be unable to work, and you can face substantial medical, therapy, treatment, and medication bills. You may suffer a long-term injury or disability or require assistance to get around and perform actions you used to perform on your own. You may even require home upgrades or renovations to accommodate an injury.
These are significant losses that you should not have had to suffer, but insurers will still strive to avoid paying a settlement or at least limit the settlement amount paid to the injured individual they are responsible for insuring. Fighting an insurance claim against well-funded insurers who have teams of lawyers in their corner can be a daunting task, but the Philadelphia forklift accident lawyer with Villari, Giannone and Matteo has years of experience handling such cases and safeguarding the best interests of injured accident victims.
Call us today for a no-obligation case evaluation. Based on the specifics of your case, we can help you file a compensation claim and will handle your case from start to finish until a settlement is reached.
Understanding Philadelphia Forklift Accidents
According to the National Highway Traffic Safety Administration, truck accidents cause approximately 120,000 non-fatal injuries and almost 5,000 deaths in the United States every year. Most of these large truck accidents are caused by heavy vehicles, but many are caused by smaller transportation and workplace vehicles such as forklifts.
The economic losses associated with vehicle accidents in the United States are close to $250 billion every year in the form of lost productivity, medical treatment costs, lost worker income, vehicle damage, and other expenses, and many of these losses stem from forklift accidents.
According to the National Safety Council, forklifts can cause accidents in many different ways. These include transportation-related accidents, slips and falls, striking objects or materials and causing someone an injury, and causing someone to become caught in objects, equipment, or materials. These accidents can lead to fractures, bruises, soreness, pain, cuts, and other traumatic injuries. Most forklift accidents occur in service industries, but they are also common in the transportation, warehousing, wholesale, retail, manufacturing, and construction industries.
Forklift accidents can be caused in many different ways, such as:
A lack of operator training
Worker fatigue, sleep deprivation, or overwork
Speeding on a forklift
Operating a forklift where it is unsafe to do so
Improperly secured or overweight loads
Poor communication between the forklift operator and others
Poor vehicle maintenance
Horseplay, such as operators performing tricks on their vehicle
Unsafe ramps and/or workplace flooring
Poor workplace design such as narrow or crowded aisles
Irrespective of how your forklift accident occurred, we are here to ensure that you are compensated.
Compensable Damages After a Philadelphia Forklift Accident
Some of the damages that our Philadelphia forklift accident lawyer can help you file for include:
Medical treatment expenses, including coverage for rehabilitation, surgeries, medical devices, and pain management
Wage replacement for temporary or permanent disabilities that affect your ability to work and/or your earning potential
Disability benefits
Vocational training to help you transition to another job that you can perform given your accident-related injuries
Pain and suffering
Wrongful death compensation in the event of a workplace fatality involving a forklift accident
How Our Philadelphia Forklift Accident Lawyer Will Help You
Fighting a legal case while injured can be difficult. It can also be difficult for anyone unfamiliar with workplace accident laws. The Philadelphia forklift accident lawyer team with Villari, Giannone and Matteo is here to help. We can guide you through the entire process and will help you:
Gather the evidence needed to substantiate your claim
Identify the cause of your accident
Determine the at-fault parties for your accident
Quantify your losses and damages
Speak with eyewitnesses and your co-workers, supervisors, and employer to prepare a thorough insurance claim
Represent you during meetings with the insurer and your employer
File your claim with the relevant parties and represent you in court if your claim goes to trial
Please contact Villari, Giannone and Matteo and our Philadelphia forklift accident lawyer team today for assistance with your forklift accident claim. Our team of compassionate and experienced attorneys will help you win the compensation you deserve for your accident.
Frequently Asked Questions About Philadelphia Forklift Accidents
Who is at fault for a forklift accident?
It depends on how the accident occurred. Workers injured on the job in a forklift accident will usually seek compensation via their employer's workers' compensation coverage. However, a third party may be at fault if they, for example, negligently operated a forklift, did not properly service or manage a forklift, or were at fault for a manufacturing defect that was directly linked to the accident in question. Our Philadelphia forklift accident lawyer will investigate your case to determine how and why your accident occurred so that the appropriate legal steps can be taken.
What should I do after a forklift accident?
First, try to ensure that you and anyone else affected by the accident are safe. Seek medical attention and do not leave the scene of the accident. Contact your insurance company and your direct supervisor, manager, or employer. If you can, take pictures of the accident scene and note who else saw or was in the area of the accident when it occurred so that they can be called on to testify or provide corroborative evidence for your claim. Do not accept a compensation payout without legal representation and contact the legal team Villari, Giannone and Matteo for help with your case.
"Want to thank all of you once again not only for your professional services but your friendship and feeling like family through all of these past four years as we fought to rebuild Stefanie's life. I could not have made a better choice for helping us through this ordeal."

Karl

"They are all very helpful, caring and they do everything to try to make sure you as a client are OK and get you what you deserve. I would recommend them to anyone. They are a great law firm."

Tiffany

"I will happily be recommending your firm to anyone who may need your help in the future because of Jen, Eric and Brian."

Michelle
Hear What Our Clients Have to Say